5 Reasons To Have A Birthday Club.
A Birthday Campaign is An effective Way to Bring in a Constant Flow of New Customers.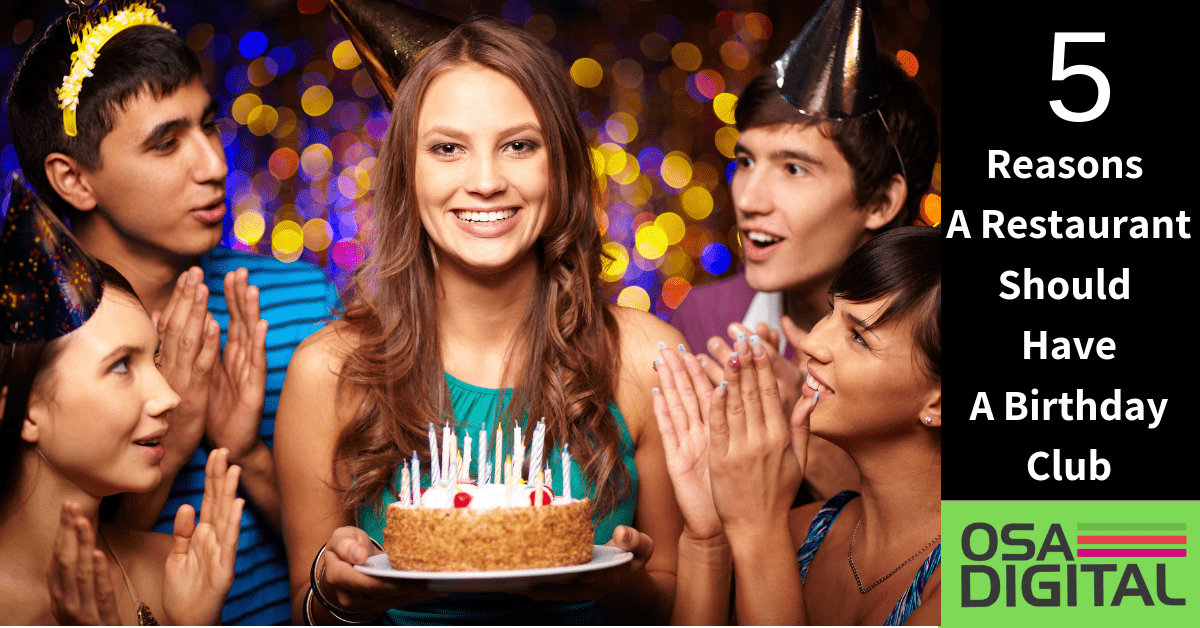 Great Atmosphere
patrons that dine with you on their birthday bring goodwill & upbeat energy to your restaurant. It keeps your establishment happier!
Encourages Groups
Birthday guests seldom dine alone on their birthday and often times they bring groups of friends and family to celebrate with them. The average birthday table is 3-4 people.
Low Hanging Fruit
More than 55% of people in the UK eat out on their birthday. Why not capitalise on what would be lost revenue?
Revenue Multiplier
Just think how having multiple customers dine with you on a daily basis choosing to celebrate at your restaurant instead of your competitor will affect your bottom line.
Highest Transaction Customer
According to the National Restaurant Association, an average birthday patron spends £78 per table.
Why Create a Restaurant Birthday Club?
Our Marketing system will turn birthday customers into high spending VIP'S
Having an external birthday club at your restaurant is an effective way to increase your sales, as well as building a list of people you can talk to anytime you like. It's almost like building your own radio station.
The most obvious reason to have a birthday club is that birthdays are popular & people love to celebrate their birthday.
Birthdays are the most popular occasion to dine out. It's also one of the most common overlooked marketing systems many owners fail to incorporate at their restaurant. In this short blog, we will show you the importance of why you need an external birthday club' at your restaurant, in addition to the revenue-boosting benefits of creating one.
Get The Birthday Marketing Blueprint Free.
This is a golden opportunity to bring in new customers, this method is not used by many restaurants, some have an internal birthday club, but ask yourself this, how many mouth-watering offers did you get from restaurants on your birthday?
The Birthday Marketing Blueprint shows you exactly how we would set it all up.
You can grab it FREE by clicking on the button below. The FREE report will be delivered directly to your inbox.
If you don't have the time to set up your own campaign, don't worry, we also show you how you can let us do all the heavy lifting, with our done-for-you service.
and enjoy a glass of wine on the house" click send and it will be sent to everyone on your list. How easy is that!!
Problems Of Running Your Own Birthday Club.
Having an internal birthday club can have tremendous benefits for your business. However, it's an additional responsibility that needs constant attention and management.
Unless you have appointed staff to properly manage your birthday club, routinely enter new sign-ups into your database, track the responsiveness of your marketing, and keep your marketing collateral updated (which can get expensive), then having a birthday club can go south quick. For this reason, is why we recommend you create an EXTERNAL birthday club compared to an INTERNAL birthday club.
Our System Ensures You Don't Give an Unnecessary Discount to Existing Customers.
In addition to the tedious work, it requires to run an INTERNAL birthday club, not to mention the cost of the software, a common concern we hear from restaurant owners is the need to attract NEW customers.
Although it is a good business practice to reward your loyal customers, you can set the birthday marketing club up so it doesn't give unnecessary discounts and special offers to existing customers, who would have come to your restaurant anyway.
This is done by creating an audience of your most regular customers, and exclude them from your marketing campaign. You can find tutorials on how to do this on youtube, just type in creating audiences on Facebook.
How To Create a Birthday Marketing Campaign
It's important to make sure you have a compelling offer to incentivize your customers to dine with you versus your competitor. Typical offers involve providing complimentary meals or desserts to the birthday patron if they are accompanied by a paying guest.
Design The Marketing Materials
You will need to create marketing material to showcase your birthday club to existing guests encouraging them to sign up for your club. This can be postcards you send in the mail, business-sized cards you provide to guests upon paying for a meal, or table tents with a call to action to join your birthday club.
Set-UP Auto-Responder
And Web Page
on the marketing collateral, you will need a destination for the guest to visit to sign up for your birthday club. This can be a simple one-page website that is connected to an email autoresponder that captures the customer's information and automatically sends them their birthday offer upon the time of their birthday.
You can take more of a manual approach and provide sign up cards that capture all your customers pertinent information, in which you would then enter this information into a spreadsheet or a database program such as excel or google spreadsheets
CREATE AND LAUNCH A CHATBOT
Messenger, We add a chatbot to your Facebook page so that you can take their details and deliver your mouthwatering offer right to their phone.
9 out of 10 people have Messenger installed on their smartphones, and the messages received on this platform are opened by more than  90% making Messenger one of the most powerful marketing tools on the planet today. When you combine this with SMS and email you almost have a perfect campaign.
Thousands of people will have birdays This week.
We Drive The Most Qualified Leads To Your Business.
We've truly created a sustainable system that will produce new customers on a daily basis for your restaurant.
If you would like to employ this marketing strategy for your restaurant, you will want to grab our "birthday marketing report" which explains exactly what we do to drive people with birthdays into our client's restaurants.
To grab your FREE report, click on the button below, once you have given us your email address, we will send it directly to your inbox.
Just to let you know, if like many owners you love the idea, but just don't have the spare time, we will show you how you can partner with us.
We can only work with a maximum of two restaurants in an area, so make sure you let us know as soon as possible, to avoid disappointment.
Let's Talk
If you would like to find out if your restaurant is a good fit for our restaurant marketing system, fill out the form and one of our team will give you a call.